Healthy Resolutions You Can Actually Stick To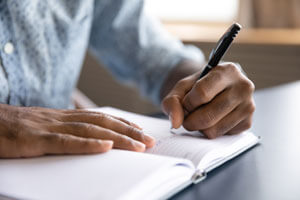 Making a resolution for the New Year doesn't have to be a big change—in fact, sometimes smaller resolutions can have the biggest impact on your overall wellness, and may even be easier to stick to.
Here are a few resolutions to consider as we embark on 2021 together:
1. Eat more whole foods. You'll be making trips to the supermarket in the new year as you always would—on your trips, simply aim to fill your cart with more fresh, organic foods instead of processed goods.
2. Be more present. An easy way to achieve this is to limit screen time—like putting away your phone during time with friends or family.
3. Remove negative self-talk from your thoughts. If you find yourself having a negative thought, recogni[z]e it and follow it up with a positive thought to help train your brain. For example, change "I make a lot of mistakes" to "There are many things I'm great at."
How to Reduce Work-from-home Back Pain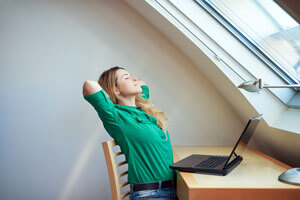 Spending more time working from your couch, kitchen counter or home-office? You're not alone. And like you, many are experiencing back pain from chairs and desks that aren't exactly ergonomic in design.
Don't worry—there's no need to run out and buy a top of the line chair to manage back pain. Here are some simple tips to try instead:
Exercise your core: The muscles involved in keeping your spine properly aligned are tied to your core—add some crunches to your daily routine!
Stretch in the morning and afternoon: Stretching helps to relieve tense muscles that tighten throughout the day.
Stay hydrated: A dry mouth isn't the only sign of dehydration. Our spine has fluid filled sacs between each bone, which may become a source of pain when not properly hydrated.
Need more help combatting back pain? Give us a call to book an appointment.
A Year of Change Starts Now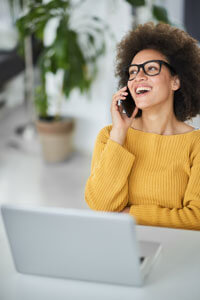 As your partner in health, we're always here for you, and want to help you make 2021 your best year yet. With so many uncertainties in the world today, it's never been more important to put your health first—and what better way to do it than naturally.
Over the years, our team has seen many patients who visit us as a last result, having lived in nagging pain for years thinking "this is just how it's going to be."
If this sounds familiar, schedule a visit with us. Our practice has worked with people just like you, your friends or family members who've spent too much time thinking they can't be helped.
Make 2021 the year you take control of your health naturally—with focused, gentle chiropractic care!