Brochure References For:
What Patients Want To Know About… Whiplash
By Patient Media, Inc.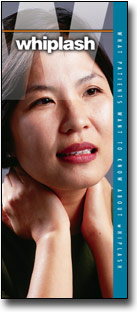 Liberti, F., D.C., Can a Passenger Be Injured If the Car is Not? Medical/Legal Consultants Associates, 1994.
Farbmann, A.A., Neck Sprain, JAMA, 223(9):1010-1015,1973.
Coffee, M.S., Edwards, W.T., Hayes, W.C., and White. Hyperextension Injury Patterns in the Human Cadaveric Cervical Spine (Abstr.), Cervical Spine Research Society, 1989.
Green, J.D., Harle, T.S., Harris J.H., Jr., Anterior Subluxation of the Cervical Spine; Hyperflexion Sprain, AJNR 2:243-250,1981.
MacNab, I., Acceleration Extension Injuries of the Cervical Spine, Rothman, M.D., Simone, M.D., (eds): The Spine, Edition 2, Philadelphia, W.B. Saunders, Vol, 2, 1982.
White, A., Paniabi, M., Clinical Biomechanics of the Spine, 2nd edition, J.B. Lippincott Company, 1990.
Burn, L., A Manual of Medical Manipulation, Kluwer Academic Publishers, 1994.
Bocchi, L., Orso, Whiplash Injuries of the Cervical Spine, Southern Italy ORTHOP, Traumatal Supplement 171-181, November 9, 1983.
Foreman, S., Croft, A., Whiplash Injuries. The Cervical Acceleration/Deceleration Syndrome, Williams and Wilkins, 2nd edition, 1995.
Torola, G.A., Whiplash: General Considerations, Assessment, Treatment, Management, and Prognosis-Part 1, AGA Journal of Chiropractic, 30(l):63-70, 1993.
Yochum, T., D.C.. Rowe, T., D.C., Essentials of Skeletal Radiology, Volume 1, Williams and Wilkins, 1987.
Cailliet, Rene, M.D., Neck and Arm Pain, F.A. Davis Co., 1977.
Gay, J., M.D., Abbott, K., M.D., Common Whiplash Injuries of the Neck, JAMA, pp. 1698-1704, August 29, 1953.