Brochure References For:
What Patients Want To Know About… Adjustments
By Patient Media, Inc.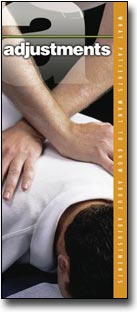 Kirk, R., D.C., Laurence, D., D.C., Valvo, D.C., States Manual of Spinal, Pelvic, and Extravertebral Technique, 2nd Edition. National College of Chiropractic, 1985.
Kirkaldy-Willis, M.D., Managing Low Back Pain, 3rd Edition. Churchill Livingstone, 1993.
Leach, R., The Chiropractic Theories, A Synopsis of Scientific Research, 2nd Edition. Williams & Wilkins, 1986.
New Zealand Report, Report of the Commission of Inquiry. Government Printer, Wellington, New Zealand, 1979.
Plaugher, G., D.C., Anrig Howe, C., D.C., Textbook of Clinical Chiropractic, Williams and Wilkins, 1993.
Schafer, R., D.C., Faye, L., D.C., Motion Palpation and Chiropractic Technique, 2nd Edition, Motion Palpation Institute, 1990.
Webster, L., D.C., Subluxation Birth and Early Childhood. International Pediatrics Literature, March 1989.