Brochure References For:
What Patients Want To Know About… Children
By Patient Media, Inc.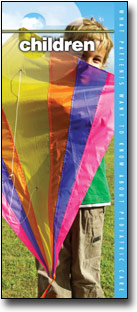 Anrig Howe, C., D.C., Plaugher, G., D.C., Pediatric Chiropractic, Williams and Wilkins, 1998.
Benedetti, T.J., Birth Injury and Method of Delivery. New England Journal of Medicine, 341(23): 1758-9,1999.
Esch, S., Zachman, Z., Adjustive Procedures for the Pregnant Chiropractic Patient, Chiropractic Technique, 3(2):66, MAY 1991.
Hughes CA, Harley EH, Milmoe G, ET AL., Birth Trauma in the Head and Neck. Archives of Otolaryngology Head and Neck Surgery, 1999, 125(2):193-9.
Kristiansson, P., M.D., ET AL, Serum Relaxin, Symphyseal Pain and Back Pain During Pregnancy, American Journal of Obstetrics and Gynecology, 175(5):1342-7, 1996.
Ostgood, M.D., Anderson, M.D., Schultz, PH.D., Miller, PH.D., Influence of Some Biomechanical Factors On Low Back Pain in Pregnancy, Spine, 18:61-65; 1993.
Peet, J., D.C., Chiropractic Pediatric and Prenatal Reference Manual, 2nd Edition, Baby Adjusters, Inc. Publications, 1992.
Riordan, J., ED.D., Auerbach, K. PH.D., Breastfeeding and Human Lactation. 2nd Edition, Jones and Bartlett Publishers, 2001.
Sadler, T. W. PH.D., Langman's Medical Embryology, Lippicott, Williams and Wilkins, 2000.
Towbin, A., M.D., Latent Spinal Cord and Brain Stem Injury in Newborn Infants. Developmental Medicine and Child Neurology, 11(1):54-68, 1969.
Webster, L., D.C., Subluxation Birth and Early Childhood. International Pediatrics Literature, MARCH 1989.