Brochure References For:
What Patients Want To Know About… Neck Pain
By Patient Media, Inc.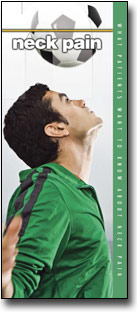 Ariens GA, Bongers PM, Douwes M, et al. Are neck flexion, neck rotation, and sitting at work risk factors for neck pain? Results of a prospective cohort study. Occupational Environments Medicine (England), 2001, 58(3):200-7
Burn, L., A Manual of Medical Manipulation. Kluwer Academic Publishers, 1994.
Cailliet, Rene, M.D., Neck and Arm Pain. 3rd edition, F.A. Davis Co., 1991: 87-123.
Davies, N. J., D.C., Jamison, J. R., PhD. Chiropractic Pediatrics: A Clinical Handbook. Churchill Livingstone, 2000.
Davis, C.G., D.C., Rear-end Impacts: Vehicle and Occupant Response. Journal of Manipulative and Physiological Therapeutics, 21(9): 629-39, 1998.
Gatterman, M.I., D.C.. Chiropractic Management of Spine Related Disorders. Williams & Wilkins, 1990.
Gunzburg, R., M.D., Szpalski, M., M.D., Whiplash Injuries: Current Concepts in Preventions, Diagnosis and Treatment of the Cervical Whiplash Syndrome. Lippincott-Raven, 1998.
Gunzburg, R., M.D., Szpalski, M., M.D., The Degenerative Cervical Spine. Lippincott, Williams & Wilkins, 2001.
Heikkila H, Johansson M, Wenngren BI, Effects of Accupuncture, Cervical Manipulation and NSAID Therapy on Dizziness and Impaired Head Repositioning of Suspected Cervical Origin: A Pilot Study. Manual Therapy (Scotland), 5(3):151-7, 2000.
White, A., Panjabi, M., Clinical Biomechanics of the Spine. 2nd edition, J.B. Lippincott Company, 1990: 229-34.