Brochure References For:
The Astonishing Dr. You
By Patient Media, Inc.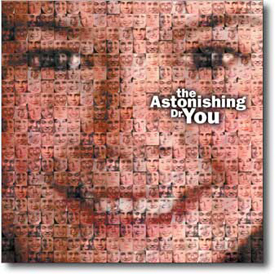 Anderson, Douglas, M., Dorland's Medical Dictionary, 29th ed., W.B. Saunders Co., 2000.
Bendetti, Thomas J., M.D., Birth Injury and Method of Delivery. New England Journal of Medicine 341(23): 1758-9, 1999.
Bigos,S., et al. Acute low back problems in adults. Clinical practice guideline no.14. Agency for Health Care Policy and Research, Public Health Service, U.S. Department of Health and Human Services, 1994.
Broom, BC. Medicine and Story: A Novel Clinical Panorama Arising from a Unitary Mind/Body Approach to Physical Illness. Advanced Mind Body Medicine 16(3): 161-77, 2000.
Carlson, Bruce M., M.D., PhD, Human Embryology and Developmental Biology, Mosby, 1999: 84-5.
Center for Disease Control and Prevention, How do Vaccines Work? http://www.cdc.gov.nip/publications/fs/gen/howvacswork.html, 2000.
Chapman-Smith, David A., L.L.B., P.C.E., F.I.C.C., The Chiropractic Profession, Harmony Printing Ltd., 2000: 57-64.
Davies, Neil, D.C., Chiropractic Pediatrics A Clinical Handbook, Churchill Livingston, 2000.
Diamond, W. John, M.D., The Clinical Practice of Complementary, Alternative, and Western Medicine, CRC Press, 2001: 24-8.
Donavan, Deb and VanMetter, Bob, D.C., Chiropractic: The best kept secret in health care. http://www.parentsplace.com…adulthealth/gen/0%2C3375%2C8552%2C00.html. 2000.
Federation of Chiropractic Licensing Boards. http://www.fclb.org/Q&A.html. 2000.
Franklin, G.M., Outcome of Lumbar Fusion in Washington State Workers' Compensation, Spine, 19(17):1897-903, 1994.
Freeman, Lyn W., PhD., Mosby's Complementary and Alternative Medicine A Research Based Approach, Mosby,2001:4-5.
Gatterman, M., M.A., D.C., Foundations of Chiropractic: Subluxation. Mosby-Year Books, 1995.
Gray, Henry, Grays Anatomy, The Anatomical Basis of Medicine and Surgery, 38th edition, edited by Peter L. Williams, D.Sc., M.A., M.B., B.Chir., F.R.C.S., Churchill Livingston, 1995.
Haldeman, S., D.C., M.D., Principles and Practice of Chiropractic, Appleton-Lange, 1991.
http://www/stmarys.medford.or.us/curriculum/bio/hbsm/nervous/function.html. 2000.
Hughes, C. A., M.D., et al. Birth Trauma in the Head and Neck. Archives of Otolaryngology Head and Neck Surgery 125 (2): 193-9, 1999.
Ince, Susan. Chiropractic Does it Work? Experts Say Yes. http://www.msnbc.com/news/312491.asp. 2000.
Irwin, R., M. D., et al, Sports Medicine: Prevent, Evaluate, Management and Rehabilitation, 2nd Edition, Prentice-Hall Inc., 1998.
Larson, JS. The Conceptualization of Health. Medical Care Research and Review 56(2): 123-36, 1999.
Manga, P., Ph.D., Angus, D., M.A., Papadopaulos, C., M.H.A., Swan, W., The Effectiveness and Cost Effectiveness of Chiropractic Management of Low Back Pain, (funded by the Ontario Ministry of Health) August 1993: 104.
National Vaccine Information Center. http://www.909shot.com. 2000.
New Zealand Report, Report of the Commission of Inquiry. Government Printer, Wellington, New Zealand, 1979.
Rayl, A.J.S. Humor: A Mind-body Connection – Will Researchers and comedy legends demonstrate laughter's therapeutic qualities? The Scientist 14(19): 1, 2000.
Sherwood, Lauralee, M.D. PhD, Human Physiology from Cells to Systems, 3rd ed., Wadsworth Publishing Company, 1997: 110.
Shi, Leiyu, DrPH, M.B.A., M.P.A., Singh, Douglas, PhD, M.B.A., Delivering Healthcare in America A Systems Approach, Aspen Publishers, Inc., 1998:34-6.
Stratton, Kathleen, et al, Adverse Events Associated with Childhood Vaccines – Evidence Bearing on Causality, National Academy Press, 1994.
The Mind-BODY Connection: Granny Was Right After All. The Rochester Review. http://www.rochester.edu/pr/Review/V59N3/feature.html. 2000.
Towbin, A., M.D., Latent Spinal Cord and Brain Stem Injury in Newborn Infants. Developmental Medicine and Child Neurology, 11(1):54-68, 1969.
Travell, Janet, M.D., Myofascial Pain and Dysfunction; The Trigger Point Manual, 2nd Edition, Williams & Wilkins, 1998.
Vaccination Risk Awareness Network Inc. http://www.vran.org, 2000.
Vaccine Website.com. http://www.whale.to/vaccines.html. 2000.
Weil, Andrew, M.D., Health and Healing, Houghton Mifflin Co., 1998:55.
Windsor, H., M.D. Sympathetic Segmental Disturbances: The Evidence of the Association, in Dissected Cadavers of Visceral Disease with Vertebral Deformities of the Same Sympathetic Segment. Medical Times, November 1921.