Brochure References For:
Answers to the Questions Patients Ask About Chiropractic
By Patient Media, Inc.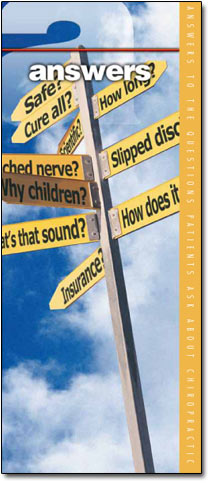 Anrig Howe, C., D.C., Plaugher, G., D.C., Pediatric Chiropractic, Williams and Wilkins, 1998.
Barge, F. H., Life Without Fear, Bawden Brothers Printing, Inc., 1990.
Brennan, P.C., Ph.D., et al, Enhanced Phagocytic Cell Respiratory Burst Induced by Spinal Manipulation: Potential Role of Substance P. Journal of Manipulative and Physiologic Therapy, 14(7):399-408, 1991.
Franklin, G.M., Outcome of Lumbar Fusion in Washington State Workers' Compensation, Spine, 19(l7):1897-903, 1994.
Gatterman, M., M.A., D.C., Foundations of Chiropractic: Subluxation. Mosby-Year Books, 1995.
Gray, H., Grays Anatomy, The Anatomical Basis of Medicine and Surgery, 38th edition, edited by Peter L. Williams, D.Sc., M.A., M.B., B.Chir., F.R.C.S., Churchill Livingston, New York/London, 1995.
Haldeman, S., D.C., M.D., Principles and Practice of Chiropractic, Appleton-Lange, 1991.
Kirkaldy-Willis, M.D., Managing Low Back Pain, 4th Edition. Churchill Livingstone, l999:131-5.
Leach, R., The Chiropractic Theories, Principles and Clinical Applications, 3rd edition, Williams and Wilkins, 1994.
Lewitt, K., MUDr., Doc., Dsc., Manipulative Therapy in Rehabilitation of the Motor System, Butterworth, 1999.
Manelfe, C., M.D., Imaging of the Spine and Spinal Cord, Raven Press, 1992:272-5.
Manga, P., Ph.D., Angus, D., M.A., Papadopaulos, C., M.H.A., Swan, W., The Effectiveness and Cost Effectiveness of Chiropractic Management of Low Back Pain, (funded by the Ontario Ministry of Health) August 1993: 104.
Meade, T.W., Dyer, S., et al. Low Back Pain of Mechanical Origin: Randomized Comparison of Chiropractic and Hospital Outpatient Treatment, British Medical Journal, 300:431-437, 1990.
Memmler, R., M. D., Structure and Function of the Human Body, 6th edition, Lippincott, 1996:109.
New Zealand Report, Report of the Commission of Inquiry. Government Printer, Wellington, New Zealand, 1979.
Penna, M. Pregnancy and Chiropractic Care. American Chiropractic Association Journal of Chiropractic, Nov 1989.
Towbin, A., M.D., Latent Spinal Cord and Brain Stem Injury in Newborn Infants. Developmental Medicine and Child Neurology, 11(1):54-68, 1969.
Vernon LF, Spinal Manipulation as a Valid Treatment for Low Back Pain, Delaware Medical Journal 68(3):175-8 March 1996.