Brochure References For:
What Patients Want To Know About… Chiropractic
By Patient Media, Inc.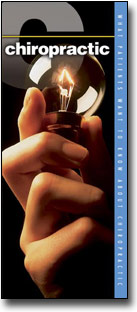 Barge, F. H., Life Without Fear, Bawden Brothers Printing, Inc., 1990.
Gazdar, W.M., D.C., Taking Your Back to the Future: How to Get a Pain-free Back and Total Health with Chiropractic Care, 2nd Edition, John Muir Chiropractic Center, Walnut Creek, CA, 1997
Gray, H., Grays Anatomy, The Anatomical Basis of Medicine and Surgery, 38th edition, edited by Peter L. Williams, D.Sc., M.A., M.B., B.Chir., F.R.C.S., Churchill Livingston, New York/London, 1995.
Haldeman, S., D.C., M.D., Principles and Practice of Chiropractic, Appleton-Lange, 1991.
Kirkaldy-Willis, M.D., Managing Low Back Pain, 4th Edition. Churchill Livingstone, 1999:322-330.
Leach, R., The Chiropractic Theories, Principles and Clinical Applications, 3rd edition, Williams and Wilkins, 1994.
Lewitt, K., MUDr., Doc., Dsc., Manipulative Therapy in Rehabilitation of the Motor System, Butterworth, 1999.
Maynard, J., D.C., Healing Hands, 4th edition, Jonorm Publishing Company, 1991.
Netter, Ciba Collections: The Nervous System, Volume 1, Part 1, Anatomy and Physiology, 1986.
Walton, L., M.D., Essentials of Neurology, 6th edition, W. B. Saunders, 1989