Brochure References For:
What Patients Want To Know About… Family Care
By Patient Media, Inc.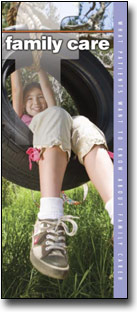 Chiropractic and Children. The Journal of the CCA, Vol. 23, No. 3, September, 1979.
Diakow, P.R.P., Gadsby, T.A., et al., Journal of Manipulative and Physiological Therapeutics, 14(2):116-118, February 1991.
Esch, S., Zachman, Z., Adjustive Procedures for the Pregnant Chiropractic Patient, Chiropractic Technique, 3(2):66, May 1991.
Gutmann G., M.D., Manuelle Medizin. Springer-Verlag, 1987.
Jackson, R., M.D., The Cervical Syndrome. Charles C. Thomas 1977.
MacLennan, A.H., Nicholson, R., Green, R., Bath, M., Serum Relaxin and Pelvic Pain in Pregnancy, Lancet ii, pp, 243-245,1986.
Maitland, MBE Vertebral Manipulation, 5th edition, Butterworths, 1986.
Ostgood, M.D., Anderson, M.D., Schultz, PhD., Miller, PhD., Influence of Some Biomechanical Factors on Low Back Pain in Pregnancy, Spine, Volume 18, 1993.
Peet, J., D.C., Chiropractic Pediatric and Prenatal Reference Manual, 2nd edition, Baby Adjusters, Inc. Publications, 1992.
Plaugher, G., D.C,, Anrig Howe, C., D.C., Pediatic Chiropractic, Williams and Wilkins, 1998.
Rothman, M.D., Simeone, M.D., The Spine, 3rd edition, W.B. Saunders Company, 1992.
Towbin, Abraham, M.D., Latent Spinal Cord and Brain Stem Injury in Newborn Infants. Develop Med. Child Neurol., 1969, 11:54-68.
Webster, L., D.C., Subluxation Birth and Early Childhood. International Pediatrics Literature, March 1989.