Brochure References For:
What Patients Want To Know About… Scoliosis
By Patient Media, Inc.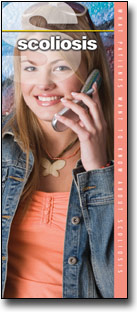 Bradford, D., M.D., Lonstein, M.D., Textbook of Scoliosis and Other Spinal Deformities, 3rd edition, W.B. Saunders Company, 1994.
Brodeur, R. R., Plaugher, G., Elbert, R. A., Lantz, C. A., Pediatric Chiropractic, Williams and Wilkins, 642-670, 1998.
Cailliet, Rene, M.D., Scoliosis: Diagnosis and Management, F.A. Davis, 1975.
Hagglund, G., Karlberg, J., Willner, S., Growth in Girls with Adolescent Idiopathic Scoliosis, Spine, 16:108-111, 1991.
Keim, H., The Adolescent Spine, 2nd edition, Springer-Verlag, 1982.
Mawhiney, R. B., Chiropractic Proof in Scoliosis Care, Digest of Chiropractic Economics, March-April:65-70, 1984.
Paonessa, K.J., Engler, G.L., Back Pain and Disability After Harrington Rod Fusion to the Spine for Scoliosis, Spine, 17(8S):S249-S253, 1992.
Plaugher, G., D.C., Lopes, M., D.C., Textbook of Clinical Chiropractic, Williams and Wilkins, 1993.
Sallahian, C., Reduction of Scoliosis in an Adult Male Utilizing Specific Chiropractic Spinal Manipulation: A Case Report, Journal of Chiropractic Research and Clinical Investigation, Vol. 7, No. 2, July, 1991.