Brochure References For: Patch or Fix?
How Far Will You Take Your Chiropractic Care
By Patient Media, Inc.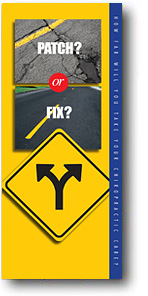 Brennan, P.C., Ph.D., et al, Enhanced Phagocytic Cell Respirtory Burst Induced by Spinal Manipulation: Potential Role of Substance P. Journal of Manipulative and Physiologic Therapy, 14(7):399-408, 1991.
Haldeman, S., D.C., M.D., Principles and Practice of Chiropractic, Appleton-Lange, 1991.
Lewit, K., MUDr., Doc., Dsc., Manipulative Therapy in Rehabilitation of the Motor System, Butterworth, 1999.