Brochure References For:
What Patients Want To Know About… Headache
By Patient Media, Inc.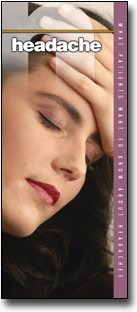 Attanassieo, V., Fowler S., Follick, M. J., Perry, R. J., Issues in the Management of Recurrent Headaches: Nonpharmacological Treatment Offers Relief to Many Victims. Headache Magazine 1987, 27:163-167.
Braaf, M. M., Rosners, Trauma of Cervical Spine as Cause of Chronic Headache, Journal of Trauma 1976,15:445.
Friedman A. P., Reflections of the Treatment of Headaches. Headache Magazine, 1971,11:148-155.
Kelly, P., The Management of Cervical Headaches, Proceedings of the Cervical Headache Symposium, Sidney: Manipulative Therapist Association of Australia, 1983, Pg. 55-63.
Lewit K., Manipulative Therapy in Rehabilitation of the Locomotor System, 2nd ed., Oxford: Butterworth-Heinemann, Ltd., 1991.
Management of Chronic Head and Neck Pain: Effectiveness of Altering Factors Perpetuating Myofascial Pain. Headache Magazine, 1987, 27:186-190.
Samms, J., Chiropractic Care of Headache, Alternative and Complementary Therapies, October 1994.
Saunders, D. N., Orthopedic Physical Therapy. Minneapolis, Saunders, 1992.
Theisler, G., Editor, Chronic Headache Pain. Williams & Wilkins, 1990.