Brochure References For:
What Patients Want To Know About… Wellness
By Patient Media, Inc.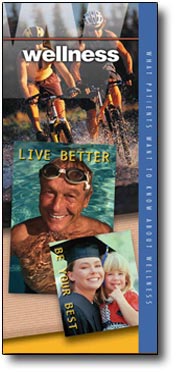 Blanks RHI, Schuster TL, Dobson M: "A retrospective assessment of Network care using a survey of self-reported health, wellness and quality of life." Journal of Vertebral Subluxation Research 1997;1(4):15.
Butler, R., M.D., How We Live As Long As We Live. http://www.amnh.org/enews/aging/a43.html, 1998.
Coulter ID, Hurwitz EL, Aronow HU, et al: "Chiropractic patients in a comprehensive home-based geriatric assessment, follow-up and health promotion program." Topics in Clinical Chiropractic 1996;3(2):46.
Frymoyer, J.W., M.D. (editor), The Adult Spine: Principles and Practice, 2nd ed., Lippincott-Raven, 1997: 1837-1861.
Genaidy, A., et al. Ranking of Static Non-neutral Postures Around the Joints of the Upper Extremity and the Spine. Ergonomics 38(9): 1851-8,1995.
Gray, Henry, Grays Anatomy, The Anatomical Basis of Medicine and Surgery, 38th ed., edited by Peter L. Williams, D.Sc., M.A., M.B., B.Chir., F.R.C.S., Churchill Livingston, 1995.
Haldeman, S., D.C., M.D., Principles and Practice of Chiropractic, Appleton-Lange, 1991.
Irvin, R., M. D., et al., Sports Medicine: Prevent, Evaluate, Management and Rehabilitation, 2nd ed., Prentice-Hall Inc., 1998.
Lauro, A., D.C., Mouch, B., D.C., Chiropractic Effects on Athletic Ability. Chiropractic: Journal of Chiropractic Research & Clinical Investigation. 6(4): 84-87, 1991.
Lewitt, K., MUDr., Doc., Dsc., Manipulative Therapy in Rehabilitation of the Motor System, Butterworth, 1999.
Manga, P., Ph.D., Angus, D., M.A., Papadopaulos, C., M.H.A., Swan, W., The Effectiveness and Cost Effectiveness of Chiropractic Management of Low Back Pain, (funded by the Ontario Ministry of Health) August 1993: 104.
Maynard, J., D.C., Healing Hands, 4th ed., Jonorm Publishing Co., 1991.
Rupert RL, Manello D, Sandefur R: "Maintenance care: health promotion services administered to US chiropractic patients aged 65 or older, Part II." Journal of Manipulative and Physiological Therapeutics 2000;23(1):10.
Rupert RL: "A survey of practice patterns and the health promotion and prevention Attitudes of US chiropractors. Maintenance care: Part I." Journal of Manipulative and Physiological Therapeutics 2000;23(1):1.