Brochure References For:
What Patients Want To Know About… Spinal Decay
By Patient Media, Inc.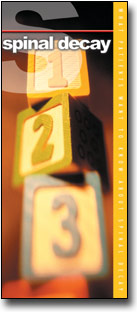 Cyriax, J. H.,. Diagnosis of Soft Tissue Lesions. Baillière Tindall,1982.
Cyriax, J. H., Treatment by Manipulation, Massage and Injection. Baillière Tindall, 1984.
Haldeman, S., Principles and Practice of Chiropractic. Appleton & Lange, 1992.
Kapandji, I. A., The Physiology of the Joints: Annotated Diagrams of the Mechanics of the Human Joints. Churchill Livingstone, 1982.
Kirkaldy-Willis, M.D., Managing Low Back Pain, 4th Edition. Churchill Livingstone, 1999:331-5.
Laredo, J., Imaging of Low Back Pain. I & II W.B Saunders, 2000.
Peet, J., D.C., Chiropractic Pediatric and Prenatal Reference Manual, 2nd edition, Baby Adjusters, Inc. Publications, 1992.
Biedebach, D.L., D.C., Brantingham, J.W., D.C., Snyder, W. R., D.C., Spinal Manipulation May Help Spinal Degenerative Joint Disease and Disability, Parts I & II, http://www.chiroweb.com/find/backpain.html, 1994.