Chiropractic Services
Besides personal preferences, what chiropractors can and can't do varies from jurisdiction to jurisdiction. However, many chiropractors do offer other services that work together with traditional chiropractic care to enhance the recovery of your health.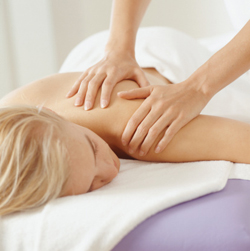 Massage – What many chiropractors will do is bring a massage therapist into the practice or create a referral relationship. Both disciplines work together to help keep the body in proper alignment, balance and function.
Acupuncture – Many chiropractors have added this centuries-old healing procedure to augment their chiropractic care. A small prick, like a mosquito bite, using ultra-fine, sterile needles, allows energy to circulate more freely in your body.
Spinal Decompression – Not all chiropractors do spinal decompression, but if they do offer it, you'll lie down on a specially equipped table and then, ever so slowly, your spine will be stretched. And relaxed. Then stretched. And relaxed. Patients report the decompression process is quite pleasant.
Cold laser – How do certain light frequencies enhance healing? Many theories have been suggested, but some chiropractors do a form of laser therapy that can help with wound healing, the reduction of inflammation and pain management.
Nutritional counseling – The body must have the essential raw materials it needs to heal, so what many chiropractors do is to offer direction on the proper combination of vitamins, minerals, and other nutrients to enhance health and well-being.
Weight loss – With the growing obesity epidemic, some chiropractors have added weight loss services to their practice.
Of all the things that chiropractors do, delivering specific spinal adjustments is among the most important. Continue reading…