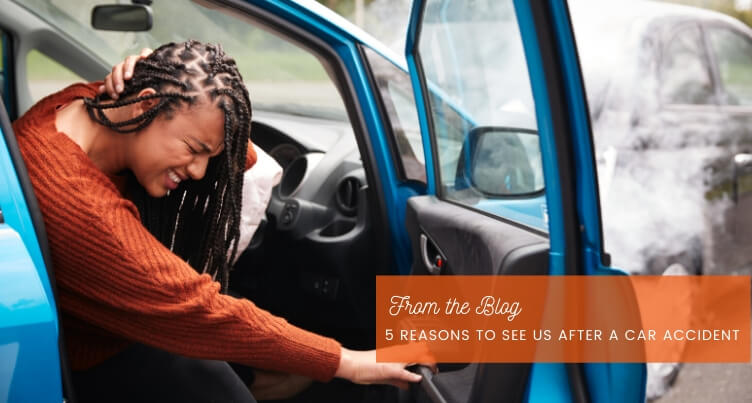 A common automobile injury is being rear-ended from behind. You're stopped at the light. And you see the car bearing down behind you in the rear view mirror. There's little you can do. Simply brace yourself for the sound of crushing steel and broken glass.
CRASH!
The result is often a case of whiplash.
Thankfully, chiropractors are successful with whiplash cases. In fact, great results are often routine.
Here's why you should urge others to consult us if they've been in a car accident:
1. Medical minimi[z]ation – There may be a visit to an emergency room. But if there isn't any bleeding or broken bones you'll get a clean bill of health. Expect some muscle relaxers and pain medication. You'll be warned to take it easy for a day or two. However, the misaligned vertebrae and muscle micro-tears will be ignored.
Chiropractors take car accident injuries seriously. We help correct the sometimes hidden structural and neurological damage.
2. Faster Recovery Times – The biggest mistake that many make is waiting too long before seeking chiropractic care. Waiting weeks, months or even years permits the formation of scar tissue. This makes correction more difficult, time-consuming and expensive later on.
Chiropractic care following a car accident helps avoid needless problems. Plus, it may reduce recovery times.
3. Fewer Medications – Traditional treatment relies on pain medication. But many find the side effects more troubling than their injuries. Tragically, the opioid crisis often gets its foothold here. Chiropractors help victims return to their pain-free, pre-accident condition.
Chiropractors use safe and natural spinal adjustments. Thankfully, adjustments feel great.
4. Insurance Coverage – The last thing you want to worry about is money. Especially the cost of your care. Many auto insurance policies offer some chiropractic coverage. However, they may only cover a certain number of visits. Others have fee limitations. Some may require a medical referral. Yet, chiropractic is often less expensive than medical treatment.
Chiropractors are experts in soft tissue injuries. They routinely help those who have been in car accidents.
5. Introduced to Wellness – Many first discover chiropractic after a car accident. As they learn about today's chiropractic, they opt to continue their care. Naturally, how long you benefit from chiropractic is always up to you.
Many patients mention that regular chiropractic checkups help them stay well. Others observe that they don't seem to get the latest "bug" going around.
Whether you were driving or a passenger, a car accident is traumatic. Seek a chiropractor who can detect and correct the hidden damage to your spine and nervous system.