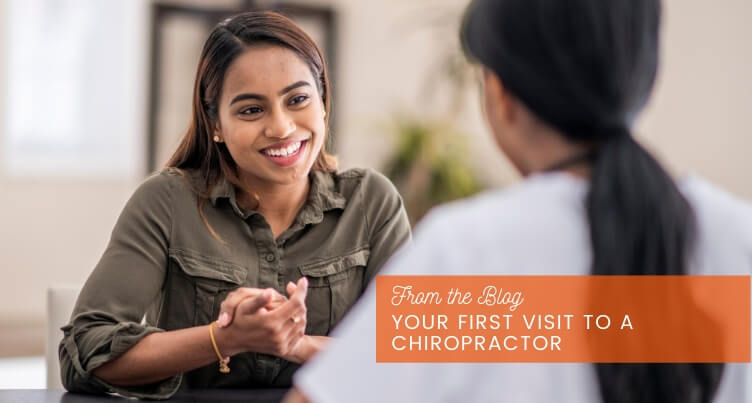 Your First Visit to a Chiropractor
In some ways, your first visit will be similar to seeing a medical practitioner. And in other ways it will be quite different. And while every chiropractor has a slightly different first-visit procedure, here's what you can generally expect.
A Warm Welcome
Chiropractors practice in medical centers, freestanding clinics, converted home offices and even hospitals. When you arrive you'll be greeted with a smile. The first thing you'll notice is the comfortable, stress-free environment. You might hear soothing music and smell the relaxing aroma of essential oils.
You'll start feeling better and you haven't even met the chiropractor yet!
First the Essentials
Naturally, there will be some brief paperwork. This captures your contact details, your health history and current health concern. You may encounter questions about your diet, sleep habits and stress levels that may seem unrelated to your symptoms. Relax. Our interest is in you first, and your symptoms second.
Meet the Chiropractor
Soon you'll be invited back to meet the chiropractor for an initial consultation. Based on your case history, he or she will ask you to elaborate. When did your problem begin? What makes it worse? What makes it better? What other approaches have you tried?
The purpose is to get to know each other better and to determine if you're a good candidate for chiropractic care. If you're not, an appropriate referral will be made. If you are, a thorough examination is next.
A Thorough Examination
The examination will often include a series of physical, orthop[e]dic and neurological tests. These are designed to reveal the presence of nerve interference from spinal misalignments. This will include turning and bending, plus testing your reflexes and other noninvasive tests.
Some chiropractors employ diagnostic X-rays, surface electromyography, thermography and other technologies. These are designed to reveal the function of your spine and nervous system. You'll get to see these at your report of findings.
Many patients tell us that it is among the most complete examination they've ever had.
Your Report of Findings
After correlating your exam findings, the chiropractor will report his or her findings. Sometimes this is done on your first visit. Other times on your second. Your report will explain what was found, what it means and what can be done to help you. Some reports are formal, set-down presentations. Others are brief. It just depends on your unique case.
The final portion of your report consists of care recommendations and fielding your questions. You may be offered exercises, stretches, dietary suggestions and other home care instructions.
Chiropractic care is a partnership. Your results will be based on what we do on each visit, and what you do between visits.
Your First Adjustment
Based on your case, you'll receive your first chiropractic adjustment. In other situations that will occur on your second visit. It just depends.
Using his or her hands, or a small hand-held instrument, a precise amount of energy will be added to your spine at just the right time and place. Adjustments help restore healthier spinal patterns and reduce nerve interference along your spine.
Relax. Adjustments feel great. If they didn't, chiropractors wouldn't get patients to return for the follow-up adjustments needed to make lasting spinal changes.
Hope and Healing Begin
Set aside about an hour for your first visit. Future visits will be shorter as we get to know you and how your body responds to your adjustments.
Be sure to ask questions and get involved. Those who do seem to get better results.
Chiropractic care is different from medical treatment. It's a difference that has helped millions. For over a century. Naturally. Without drugs or surgery.